Felix Gonzalez-Torres, Untitled (Perfect Lovers), 1991, 14 x 28 x 2.75 inches, MoMA
Love expressed through art in unexpectedly poignant ways
Love is a universal theme that has been explored in art since antiquity. Contemporary artistic representations of love are not always easy to decipher so to celebrate Valentine's Day this year, we are delving into several pieces that touch on this multifaceted emotion in unexpectedly poignant ways.
Felix Gonzales-Torres' conceptual piece, Untitled (Perfect Lovers) explores the act of being in love as well as love's imperfect nature. Two clocks placed side-by-side work in perfect synchronization and their continuous ticking represents a shared heartbeat. Slowly over time, they fall out of sync and, eventually, their batteries die before being re-set to begin the process once again. Torres' work metaphorically represents his own personal relationship with his partner who tragically died of AIDS. The clocks speak to the harrowing feeling of running out of time. The gradual falling out of sequence, and ultimate malfunction evokes devastating loss.
Related Posts
Valentine's Day: Artists in Love
Let There Be Light! James Turrell & Ellsworth Kelly
Conceptual Art: What is it?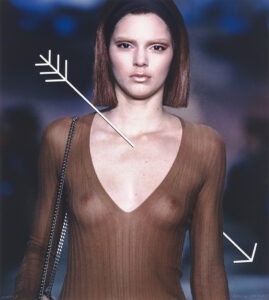 John Baldessari, Valentine, 2015, 38 × 34 inches, edition of 50
In John Baldessari's 2015 screenprint Valentine, the artist inscribes an arrow on a pre-existing fashion photograph of supermodel Kendall Jenner. The arrow represents Cupid's signature accessory that the fictitious character uses to strike people and, in turn, makes them fall in love unexpectedly. Baldessari's graffiti is at once playful and strategic, as the arrow strikes through Jenner's bodice that is contoured by her garment's neckline in a way that makes it resemble a heart shape.

Louise Bourgeois, 10 am is When You Come to Me, 2008, 98 x 108 inches, Tate Museum
Louise Bourgeois' piece, 10 AM is When You Come to Me, portrays a series of hands rendered in different tones of red that are continuously reaching towards each other in space. The hands belong to Bourgeois and her assistant Jerry Gorovoy, whom she trusted and loved deeply. The colour red evokes the warmth, passion and emotional intensity of their love. The piece's title refers to the time of the morning when Gorovoy would arrive at the artist's studio to commence their workday together.
Unlike artworks such as Auguste Rodin's famous sculpture The Kiss, Robert Indiana's widely recognized pop LOVE images or Jim Dine's signature hearts, the pieces discussed evoke the theme of love in more conceptual and obscure ways that may take a bit more time and effort to fully comprehend.