There is more to art than meets the eye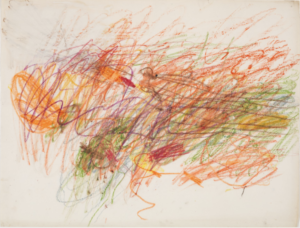 Cy Tombly, Untitled, 1954, mixed media on paper, 19 x 25 inches. Museum of Modern Art, New York.
Most art enthusiasts have been confronted, at one time or another, with a friend or family member's derisive reaction to a piece of Modern or Contemporary art; "I could do that" or, "my kid could do that". Disregarding the fact that even minimalist artwork takes more time, effort and technical prowess than most take into consideration, even if you or your child sincerely could produce an artwork in question, this reaction still proves to be a rather unhelpful response to art.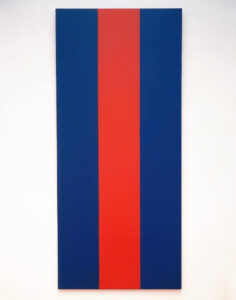 Barnett Newman, Voice of Fire, 1967, 213 x 94 inches, National Gallery of Canada, Ottawa.
People tend to overlook the fact that an artwork's significance is not exclusively limited to its visual properties. Any Art History 101 class will repeatedly emphasize the importance of art's contextual aspects. Artists are influenced by their socio-political and personal realities and, therefore, their artwork is inextricably linked to various situational circumstances. As an onlooker, you, nor your offspring, share the personal motivations or particular social realities that the artist experienced and, therefore, could not have been a position to produce the same artwork they did.
Related Posts
Conceptual Art: What is it?
Thinking Outside the Box
The Rise of Graffiti and Street ArtThe Rise of Graffiti and Street Art
It is also important to consider conceptual art which, as its name aptly implies, involves an artwork being used as a vehicle through which a concept or idea is manifested. An artist's goal is not always to impress viewers with their incredible craftsmanship, but can be to convey a message or elicit a response.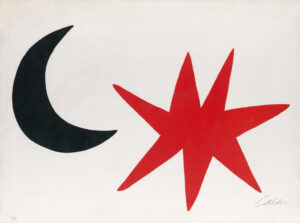 Alexander Calder, Mond und Stern, 1965, Lithograph, 30 x 22 inches. Edition of 100.
So, the next time you find yourself in the presence of an artwork that does not impress you aesthetically, fight the urge to shrug it off. Investigate further, read a gallery wall label or do a quick google search so you can learn about the artist's background and get a better sense of the 'why' as opposed to solely the 'what' in terms of the art they produce.