KAWS, Subvertisements, Modern Art Museum of Fort Worth Exhibition, WHERE THE END STARTS (2016-2017)
From the fringes to the forefront, graffiti and street art has made its way into the high art realm.
To many, graffiti and street art conjures up nothing more than images of pesky, rebellious teens armed with aerosol cans used to de-face public venues in the middle of the night. While it is true that this type of art is subversive in nature, in many ways it has transcended its sordid reputation and has made its way into traditional artistic contexts including galleries, museums and auction houses. For instance, in the 1980s, Keith Haring was fined and arrested on numerous occasions for adorning unused advertising spaces on the subway with his signature cartoon-like drawings. Today, those same drawings are displayed in museums internationally and are widely traded in the commercial sphere. Banksy is another artist whose street pieces have gained notoriety. In many instances, pieces of the actual walls on which he stenciled his murals have been auctioned off and sold in galleries for hundreds of thousands of dollars.
Related Posts
ARTspiration: Appropriation in Art
Conceptual Art: What is it?
Painting Versus Prints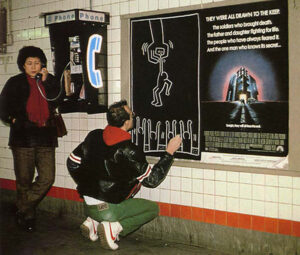 Keith Haring drawing on the New York Subway
KAWS is arguably the hottest street artist of the moment. In the 90s, he became known for unlocking glass panels at bus stations and altering the advertisements before putting them back. These 'subvertisements' featured cartoon-like characters with voluminous ears and X's for eyes. These same characteristics continue to inform the artist's distinctly recognizable iconography that are featured in his prints and paintings. In recent years, the artist's works have soared above auction estimates time and time again and his momentum seems unwavering.
Once considered an unsanctioned artform, graffiti and street style art has been legitimized and elevated to the high-art realm. So, the next time you stumble upon some spray-paint on the streets, don't scoff – it could be worth millions one day! If you are interested in artwork by KAWS or other graffiti/street artists, please contact us.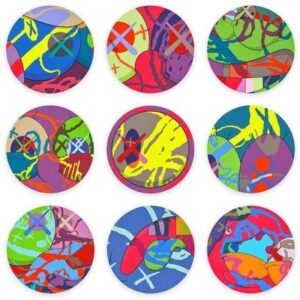 KAWS, The News (portfolio of nine works), 2018, Silkscreen, 24 inches diameter (each), Edition of 100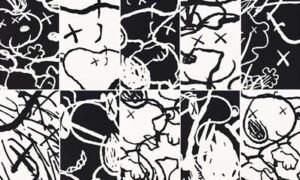 KAWS, Man's Best Friend (portfolio of ten works), 2016, Lithograph, 32 x 23 inches (each), Edition of 100