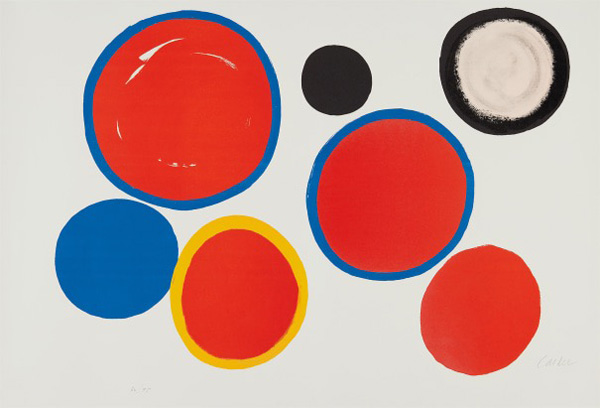 Alexander Calder was an American artist, best known as a sculptor, who gained notoriety in the 20th century as a pioneer of the kinetic art movement. His sculptures are renowned for their innovative ability to transform mundane found materials such as wire, sheet metal, and metallic rods into whimsical works through the advent of colour, size, and, most famously, movement. Calder is recognized for his ability to transgress the boundaries of sculpture in the unique way he animates his pieces both playfully and performatively.  
 Calder was born in Pennsylvania to parents that were both artists. He originally pursued a career in mechanical engineering which greatly influenced his artistry, evidenced through his source materials. In the mid 1920s, he moved to Paris and enrolled in the Académie de la Grande Chaumière where he developed his first canonical piece: The Cirque Calder. It consisted of hundreds of miniature wired sculptures the artist manipulated himself to perform a small-scale mechanical circus. Calder received his first solo exhibition in 1927. 
 In the 1930s, Calder befriended various avant-garde artists including Fernand Léger, Marcel Duchamp, Joan Miro, and Piet Mondrian. His relationships with these artists, particularly Mondrian, heavily influenced his artistic practice as he was introduced to abstraction. Calder's work evolved from figurative sculpture to more abstract works that emphasized colour and shape, yet continued to be lively in their allusions to the natural world and the presence they take up where ever they reside. In addition to sculpture, he worked heavily in print media as well as in tapestry. 
 Today, Calder's sculptures proliferate throughout the art world and are showcased in many major museums around the world such as the Museum of Modern Art in New York, the Whitney Museum of American Art in New York and the Centre Pompidou in Paris. Recently, in 2018, the Musée des Beaux Art in Montreal hosted a blockbuster retrospective entitled, Alexander Calder: Radical Inventor.