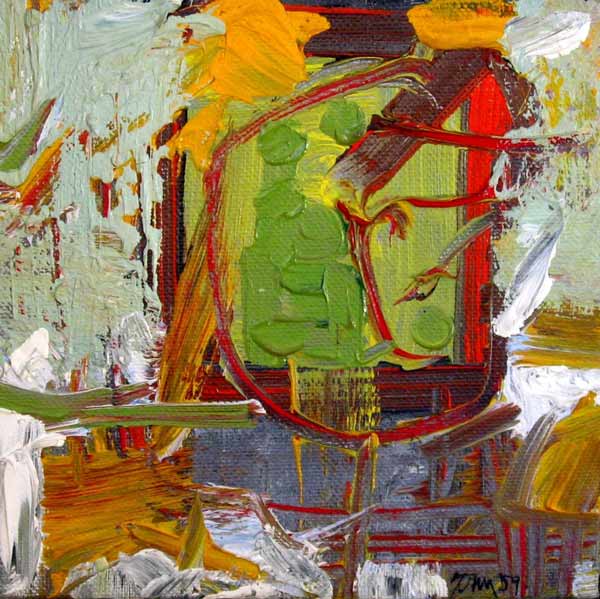 Harold Town was an Abstract painter who was a member of the Painters Eleven, the Toronto-based group of Abstract artists active during the 1950, and whose work contributed significantly to the development of Modernism in the Canadian art scene. He is also remembered as a talented printmaker and illustrator whose early works appeared in Mayfair and Maclean's magazines.
Town was born in Toronto, Ontario in 1924 where he studied at the Western Technical-Commercial School and the Ontario College of Art. As a student, the works of Pablo Picasso, Willem de Kooning as well as East Asian ceramics and antiques from Mesopotamia and Ancient Egypt were of great inspiration for him. Throughout his career, Town was also influenced by different global cultures and many historical references. He also experimented with a variety of contemporary and historical painting methods. He was somewhat of an unpredictable painter whose body of work evolved from abstraction to more conceptually grounded art later in his career.
During his lifetime, he received many honours and accolades for his artistic achievements. He was a member of the Royal Canadian Academy of Arts and was made an Officer of the Order of Canada in 1968. Additionally, he was chosen to represent Canada, along with artists Jack Shadbolt and Louis Archambault, at the Venice Biennale in 1956 and, again, in 1964 with artist Elza Mayhew. Town also represented Canada in the São Paulo Art Biennial in 1957 and 1961. Today, his work can be found in the collections of the National Gallery of Canada in Ottawa, the Guggenheim and the Metropolitan Museum of Art in New York, among many other institutions across the globe.