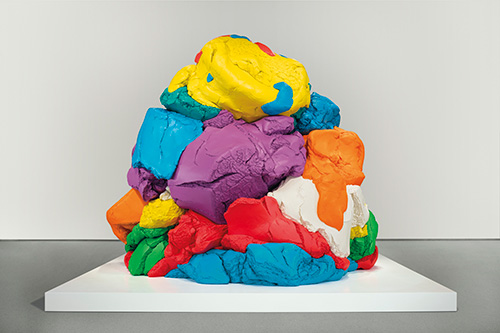 Jeff Koons was born in York, Pennsylvania in 1955 and is regarded as one of the most famous contemporary artists, widely known for his Neo-Pop sculptures. Throughout his career, he has challenged notions of traditional art, encouraging top collectors to revise their notions of what a fine collection looks like. He is a champion of kitsch as well as of the appropriation of tacky objects amassed from popular culture, rendering him a controversial figure in the artworld. He is also considered a relentless self-promoter and marketing genius. 
Koons studied at the Maryland Institute College of Art in Baltimore as well as the School of the Art Institute of Chicago. After graduating, he moved to New York and worked at the membership desk at the Museum of Modern Art. During this period, he began experimenting with sculpture, deriving inspiration from a miscellaneous array of objects you might find at a garage sale such as garish inflatable rabbits and flowers. In 1980, he left the museum and sold mutual funds and stocks at First Investors Corporation in order to finance artwork that eventually became part of The New Series, which consisted of vacuum cleaners and shampoo polishers displayed in plexiglass vitrines. Continuing in the vein of creating sculptures of unexpected objects, he embarked on The Equilibrium Series, consisting of a series of basketballs floating in tanks of water. He is most recognized for his colossal inflatable balloon dog sculptures. 
Koons has been the subject of various blockbuster exhibitions. Notably, in 2014, The Whitney Museum in New York held a major retrospective of his body of work. He has also done solo shows at the Museum of Contemporary Art in Chicago, The Helsinki City Art Museum and the Astrup Fearnley Museum of Modern Art in Oslo. In addition to his high-profile exhibitions, he has received many prestigious awards and accolades including the State Department's Medal of Arts and being named an honorary member of the Royal Academy in London. Impressively, he holds the title for the most expensive artwork sold at auction by a living artist. His stainless steel sculpture of a rabbit created in 1986 sold at Christie's New York for $91.1 million with fees. He continues to live and work in New York City.