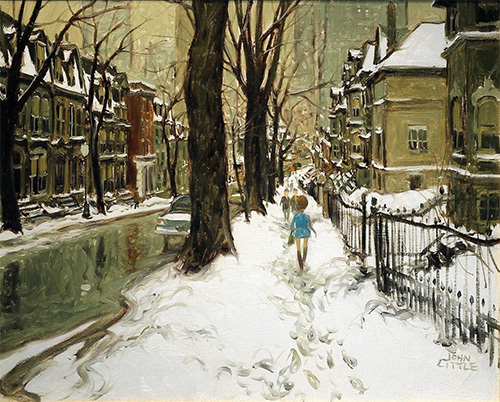 John Little is a Canadian artist celebrated for his unique paintings of urban scenes from his hometown of Montreal. He studied at the Musée des beaux-arts in Montreal under Arthur Lismer and Goodridge Roberts. Later on, Little studied at the Art Students League in New York. Upon his return to Montreal in 1951, he joined his father's architecture firm and worked as a draftsman.
In 1953, Little began working as full-time artist, though his interest in architecture did carry through into his art practice. He primarily painted Montreal's historic buildings and neighborhoods – which have since drastically changed – with the intention of preserving their integrity and history. He is especially known and celebrated for his skill in capturing winter light and cold atmospheres. 
Little's work is part of collections at the National Gallery of Canada in Ottawa, the Beaverbrook Art Gallery in New Brunswick, and the Musée d'art contemporain in Montreal. Little became an Associate of the Royal Canadian Academy in 1961 and a full member of the Academy in 1973.