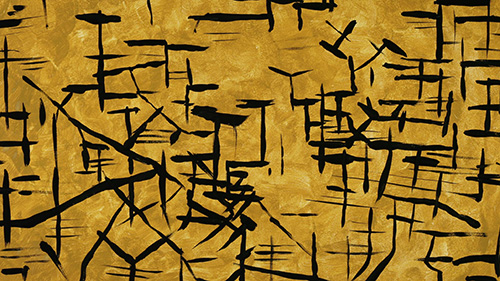 Kazuo Nakamura was a Japanese-Canadian painter and sculptor who was a member of the Painters Eleven, the Toronto-based group of Abstract artists active during the 1950s. He was born in Vancouver, British Columbia in 1926. At the age of fifteen, Nakamura was subject to the Japanese-Canadian internment camps during World War II, a place that became a subject he frequently depicted in his early paintings and watercolours. After the war, in 1948, his family settled in Toronto where he attended the Central Technical School.
In 1953, Nakamura's work was part of The Abstracts at Home show at The Robert McLaughlin Gallery in Oshawa. At this exhibition, he was introduced to the members of Painters Eleven and was invited to join the group by fellow artist, William Ronald. Nakamura's work was distinguishable from the rest of the Painters Eleven as his works tended to be simpler in structure and employed a more monochromatic colour palette. Moreover, unlike the other members, Nakamura followed a highly analytical approach to painting, rather than a gestural one.
In the 1970s and 1980s, the artist distanced himself from the group and his work evolved from landscapes to more abstract compositions. Employing a mathematical and scientific approach, Nakamura painted grid paintings based on the Pascal triangle. He investigated the link between form and dimension through his art practice, aiming to discover a fundamental universal pattern in art and nature.
Nakamura's work has been exhibited extensively throughout Canada and internationally. In 1955, he was part of the first Biennial Exhibition of Canadian Painting at the National Gallery of Canada in Ottawa. His work was included in numerous exhibitions in New York, Holland, Switzerland, Germany, and Yugoslavia throughout the latter half of the century. In 2004, a retrospective of his work titled, Kazuo Nakamura: A Human Measure, was held at the Art Gallery of Ontario in Toronto. In 2000, two years shy of his death, Nakamura was named an honorary fellow of the Ontario College of Art and Design and was made a member of the Royal Canadian Academy of Arts.