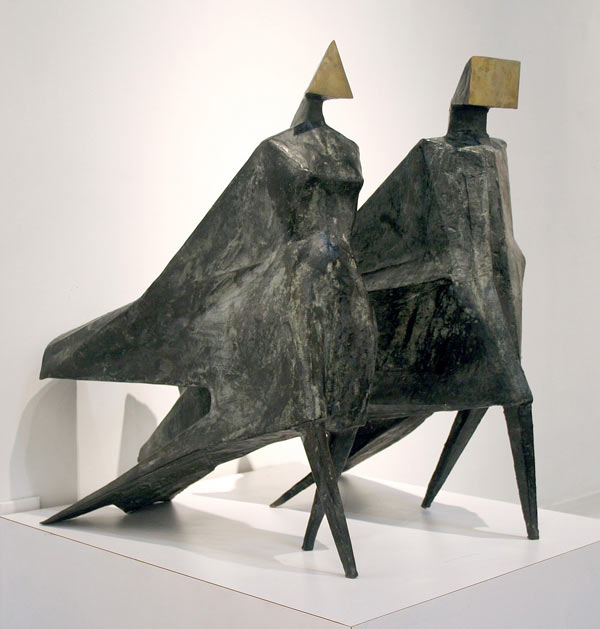 Lynn Chadwick was an English sculptor known for creating semi-abstract sculptures in bronze and steel. Although he did not attend art school or receive any formal training as a sculptor, Chadwick achieved international recognition and success during his lifetime.
He was born in London in 1914 and studied at the Merchant Taylor's School. He became a trainee draughtsman and worked in architecture offices throughout his youth. During World War II, he served as a pilot escorting Atlantic convoys. After the war, he became more involved in the design field by working in textiles, furniture, and mobiles.
In 1947, he moved to a more rural area in England and established a studio where he began designing his first sculptures. Three years later, Chadwick had his first solo exhibition and soon after received several large commissions for the Festival of Britain complex, the Arts Council of Great Britain, and the Battersea Park Open Air Sculpture Exhibition.
In 1951, Chadwick had his first international exhibition with the American Abstract Artists Group in New York. The following year, his work was selected to represent Britain at the Venice Biennale, which gained him an international reputation for using bronze rods as opposed to traditional materials to create his pieces. In the late 1950s, the artist was once again chosen to represent Britain at the Venice Biennale where he won the International Sculpture Prize. This exhibition traveled to Vienna, Munich, Paris, Amsterdam, Brussels, and London. In the 1960s, his work became more experimental with the creation of abstract human forms in addition to other complex figures.
His first retrospective exhibition was held at the Yorkshire Sculpture Park in 1992 and a second was held in 2003 at the Tate Britain. In 2001 he was appointed a position as Senior Royal Academician of the Royal Academy of Arts. Today, his work is in the prestigious collections of the MoMA and the Guggenheim Museum in New York, NY, the Tate Modern in London, England, the Centre Pompidou and the Musée Rodin in Paris, France, and the Art Gallery of Ontario in Canada, among many others throughout North America, Europe, and Africa.