Transforming the system, one art piece at a time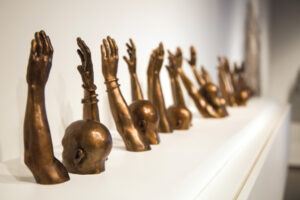 Hank Willis Thomas, Raise Up, 2014, bronze, 112 1/5 × 9 4/5 × 3 9/10 inches, edition of 5.
All over the world, people are protesting the ongoing oppression and brutality Black people experience. Our current global situation is encouraging all demographics to re-examine their actions, words and privileges in order to better support Black voices and communities in hopes of overcoming racial injustice.
The art world is certainly not exempt from this fight. The canon of Art History overwhelmingly favours white male artists. As an art firm, we feel it is our responsibility to contribute to changing this damaging narrative by using our platform to both acknowledge the exclusionary nature of our industry and help overcome it by continuously touting our support for and recognition of talented Black artists.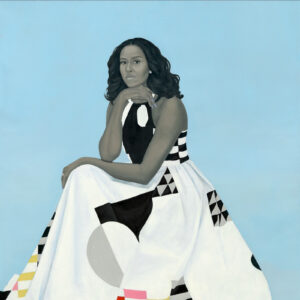 Amy Sherald, First Lady Michelle Obama, 2018, oil paint on linen, 72 x 61 inches, National Portrait Gallery.
We would like to shine a spotlight on several contemporary Black artists whose respective artistic practices engage with and challenge ideas concerning racial stereotypes and forms of representation as well as systemic oppression.
Amy Sherald made waves in recent years as the artist behind First Lady Michelle Obama's revered official portrait. Her work primarily focuses on realism and portraiture, depicting Black subjects. She engages with African American storytelling and raises questions concerning skin colour, exhibited through her poignant choice to use grey shades for skin in her portraits.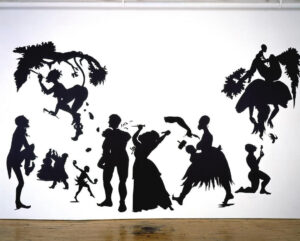 Installation photo from Kara Walker's Narratives of a Negress at the Tang Teaching Museum, 2003.
Kara Walker is a multidisciplinary artist based in the United States. She is most well-known for her work using large scale black cut paper silhouettes as well as her sculptures made from the unique material, sugar. Walker's oeuvre engages with the history of slavery along with race, gender, violence, identity and the Black experience of both the past and present.
Related Posts
What's Love Got to Do With It?
Kehinde Wiley: Maker of Modern Royalty
ARTspiration: Appropriation in Art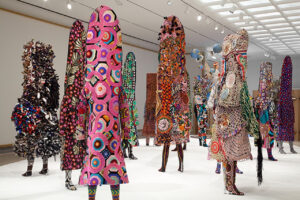 Installation photo from Nick Cave's Here Hear exhibition at the Cranbrook Art Museum, 2015.
Nick Cave is a sculptor, dancer and performance artist, internationally celebrated for his Soundsuits. These sculptures are wearable, surreal works that are inspired by the history of racial violence in the United States. They are vehicles of empowerment as their outward representations obscure visible markers of race, gender and class.
We welcome you to continue to engage with the work of Black artists by clicking on the images featured throughout this blog post.
Selected work by artists included are available through Robin Rosenberg Fine Art. For details, please contact us here.