Above image: David Hockney and his two dogs
Dogs are not only a man's bestfriend, they're also the favorite subject of numerous artists throughout the course of art history.
As an art lover and a self-proclaimed dog fanatic, I found it fitting to celebrate national dog day, coming up on August 26th, by highlighting artworks featuring this furry four-legged subject. From appearing in primitive cave paintings and in Renaissance aristocratic portraiture, to being immortalized as balloons, dogs have been portrayed in various different ways throughout the course of art history.
Living embodiments of loyalty, love and protection, dogs have played noteworthy roles in the careers and oeuvres of many renowned artists. In 1995, famed British artist David Hockney dedicated an entire exhibition exclusively to paintings of his two dachshunds, Stanley and Boodgie. He captured his beloved companions in a seemingly endless array of positions and scenarios including sleeping, cuddling, eating, drinking and playing.
Related Posts
New Collection: Photography & More
Yigal Ozeri: Photo-Realism
Valentine's Day: Artists in Love
Keith Haring is another artist who frequently employed dogs in his artistry. In his typical graffiti aesthetic characterized by simplistic geometric forms and solid vibrant hues, he fashioned a unique, anthropomorphic representation of the animal depicted either dancing, laughing, barking or even DJing.
If you have any particular favourite artworks featuring canines, please click here to send us an email with images– we would love to see!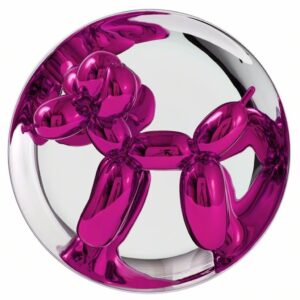 Jeff Koons, Magenta Balloon Dog, 2015, Metallized Porcelain, 10.5 inches diameter, Edition of 2300

Keith Haring, DJ, 1998, Lithograph, 31 x 23.5 inches

John Baldessari, Double Play: Feelings, 2012, Screenprint, 14 x 13.5 inches, Edition of 150

Alex Katz, Dog at Duck Trap, 1973-1975, Lithograph, 29 x 43 inches, Edition of 90