Can the Artworld Take a Joke?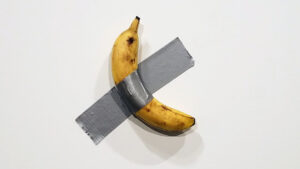 Maurizio Cattelan, Comedian, for sale from Perrotin at Art Basel Miami Beach, 2019
For centuries, April Fool's Day has been celebrated on the first day of the month, a frivolous, unofficial holiday filled with practical jokes and pranks. During these heavy times, we could all use some lightheartedness, so we are taking this opportunity to highlight memorable pranks that have been played on the art world.
Some may recall the fake glasses incident that occurred at the San Francisco MoMA in 2016. Puzzled by some of the overly simplistic conceptual art pieces they encountered, two teenagers strategically placed a pair of eyeglasses underneath a wall placard in the hopes of duping visitors. Within minutes, bystanders stopped to ponder the glasses and take photos, treating them as if they were a bona fide artwork in the museum's exhibition.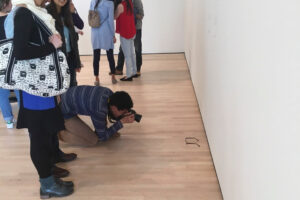 Glasses placed on the floor at the San Francisco Museum of Modern Art, 2016
Related Posts
The Art Antidote: Art Therapy
Thinking Outside the Box
My Kid Could Do That!
While this case was a harmless teenage scheme, pranks have also been enacted by high profile artists. Most famously, Banksy orchestrated the destruction of one of his artworks during a live Sotheby's auction that occurred in London in 2018. Immediately after the hammer pounded to solidify the sale of a Bansky painting for 1.4 million dollars, an alarm sounded and the artwork's bottom half slid through an automatic shredder the artist himself concealed within its frame. This shocked the audience members as well as the auction house staff. The buyer ultimately decided to keep the partially destroyed artwork, whose titled officially changed from Girl with Balloon to Love in the Bin.
The most recent prank to send shockwaves throughout the art world was the infamous banana incident at Art Basel in Miami two years ago. The public became both bewildered and utterly fascinated by Maurizio Cattelan's artwork showcased at the fair entitled, Comedian, which featured a ripe banana duct taped to the wall. Unbeknownst to the artist, performance artist David Datuna casually approached the artwork, grabbed the fruit off the wall and proceeded to eat it. This stunt elicited even more attention around the controversial piece. It is worth noting that three editions of this conceptual artwork sold, the first two selling at $120,000 before the price was raised to $150,000.
While certainly entertaining, these art pranks are not merely fatuous instances of harmless fun, as these spectacles catapulted these artworks into the canon of art history, potentially increasing their value significantly.

Banksy, Love is in the Bin, aerosol paint and acrylic paint on canvas, 40 x 31 inches, 2018 (originally Girl with Balloon, 2006)