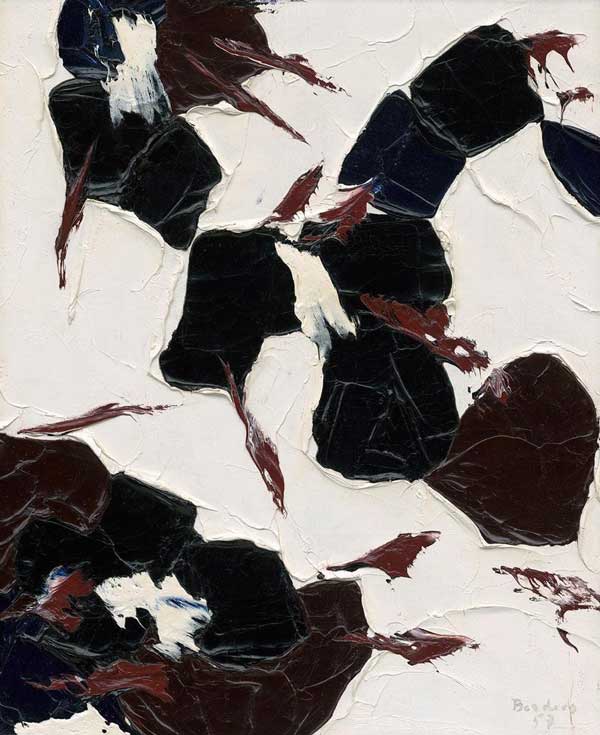 Painter Paul-Émile Borduas was born in Sainte-Hilaire, Quebec in 1905. He gained an international reputation as a painter and is considered a renowned and celebrated figure of great influence in Quebec. During his youth, Borduas served as an apprentice for the Quebecois decorative church painter, Ozias Leduc, who convinced Borduas to enroll in the École des beaux-arts in Montreal and sent him to Paris to study at the Ateliers d'art sacré. After his studies, Borduas taught drawing and painting in primary schools in Montreal and served as a professor at the École du Meuble.
Influenced by the work of Surrealist André Breton, he created his first automatist work, Abstraction verte, in 1941. The following year, he showed forty-five Surrealist works painted in gouache at the Théâtre de l'Érmitage, Montreal that were very well received.
Borduas became the leader of the Automatistes, a group of likeminded painters who exhibited together from 1943-1947 inspired by the Surrealist movement's interest in the subconscious. He was the main author of the group's manifesto, Refus global (1948), which denounced old ideologies and aimed instead to open Quebec to new cultural and intellectual developments.
From 1953-1955, Borduas lived in New York where his painting practice evolved as a result of his experience with American Abstract Expressionists. At this time, he began to apply paint solely with a spatula to create more texture. 
Today, his work is on display at the Art Gallery of Ontario in Toronto, the National Gallery of Canada in Ottawa, the Vancouver Art Gallery in British Columbia, and the Musée d'art contemporain and the Musée des Beaux-Arts in Quebec. Borduas' work helped shape a distinctly Canadian artistic visual identity that is remembered to this day.